EKONOMIKA SYARIAH: Journal of Economic Studies is a journal that publishes research results related to the themes of economics, finance, and Islamic banking. It also provides an important role in promoting the process of knowledge, values and skills. Scientific texts that discuss the topics of economics, finance and Islamic banking are highly expected to be presented. Interdisciplinary approaches to Islamic studies are used as instruments to overcome and solve Islamic economic, financial and banking problems. The editorial team invited researchers, scholars, and Islamic studies and economic observers to submit research articles that had never been published in other media or journals. Ekonomika Syariah is published twice a year, in June and December. The editorial team received the research article, typed 1.15 cm in space on A4 paper, double column, 15-20 pages long or 7000 to 9000 words. Every article published has gone through a peer-review process to maintain the quality of the publication.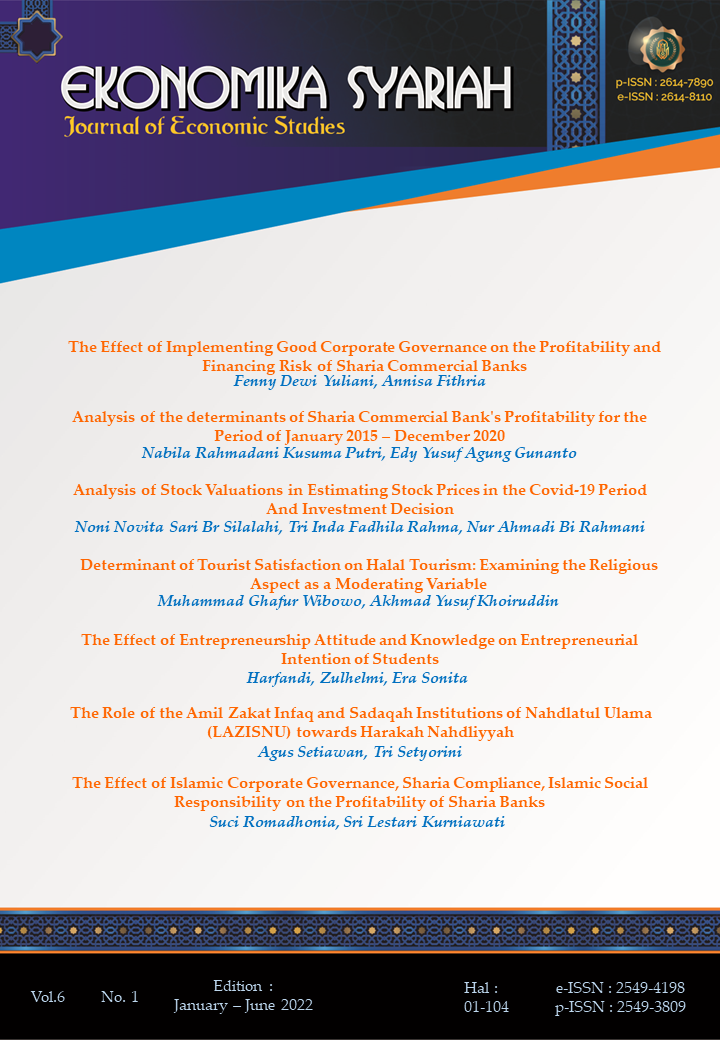 Ekonomika Syariah is published by LPPM Institut Agama Islam Negeri (IAIN) Bukittinggi, Gedung Madina. Lt.2 Kampus II. Institut Agama Islam Negeri (IAIN) Bukittinggi. Fakultas Ekonomi dan Bisnis Islam. Jln Gurun Aua Kubang Putih. Kecamatan Banuhampu. Kabupaten Agam. Sumatera Barat. kode pos : 26126
---
OAI Address

EKONOMIKA SYARIAH : Journal of Economic Studies has OAI address: 
https://ejournal.iainbukittinggi.ac.id/index.php/febi/oai
Before submission
,
You have to make sure that your paper is prepared using the
Ekonomika Syariah paper Template, 
has been carefully proofread and polished and conformed to the author guidelines.
Online Submissions
Registration and login are required to submit items online and to check the status of current submissions.
Abstracted/Indexed by :
Announcements
No announcements have been published.
Vol 7, No 1 (2023): June 2023
Table of Contents
Articles
Authors :

(1)

Siti Aisyah

(Universitas Islam Negeri Sumatera Utara, Indonesia) (2)

M. Ikhsan Harahap

(Universitas Islam Negeri Sumatera Utara, Indonesia) (3)

Nurbaiti Nurbaiti

(Universitas Islam Negeri Sumatera Utara, Indonesia) (4)

Mustapa Khamal Rokan

(Universitas Islam Negeri Sumatera Utara, Indonesia)

DOI :

10.30983/es.v7i1.6233

Abstract view : 97 times

PDF view : 108 times

01 - 20
Authors :

(1)

Arohman Arohman

(Islamic University of Sunan Kalijaga, Yogyakarta, Indonesia) (2)

Abdul Qoyum

(Islamic University of Sunan Kalijaga, Yogyakarta, Indonesia) (3)

Akmal Ihsan

(Islamic University of Sunan Kalijaga, Yogyakarta, Indonesia) (4)

Farma Andiansyah

(Gunung Leuser Aceh University, Indonesia)

DOI :

10.30983/es.v7i1.6358

Abstract view : 102 times

PDF view : 35 times

21 - 35
Authors :

(1)

Deri Rizal

(UIN Mahmud Yunus Batusangkar, Indonesia) (2)

Yustiloviani Yustiloviani

(UIN Mahmud Yunus Batusangkar, Indonesia) (3)

Farida Arianti

(UIN Mahmud Yunus Batusangkar, Indonesia) (4)

Elsy Renie

(UIN Mahmud Yunus Batusangkar, Indonesia) (5)

Dewi Putri

(UIN Mahmud Yunus Batusangkar, Indonesia)

DOI :

10.30983/es.v7i1.6264

Abstract view : 53 times

PDF view : 32 times

36 - 46
Authors :

(1)

Fakhry Emil Habib

(Universitas Islam Negeri Sjech M. Djamil Djambek Bukittinggi, Indonesia) (2)

Nofiardi Nofiardi

(Universitas Islam Negeri Sjech M. Djamil Djambek Bukittinggi, Indonesia)

DOI :

10.30983/es.v7i1.6401

Abstract view : 18 times

PDF view : 12 times

47-58
Authors :

(1)

Agus Salihin

(Sekolah Tinggi Ilmu Syariah Haji Abdul Rasyid Lombok Tengah, Indonesia) (2)

Syamsul Sukmono Edy

(Sekolah Tinggi Ilmu Sosial dan Politik Waskita Dharma Malang, Indonesia)

DOI :

10.30983/es.v7i1.4236

Abstract view : 33 times

PDF view : 15 times

59 - 71
Authors :

(1)

Nur Hidayah

(UIN Syarif Hidayatullah Jakarta, Indonesia) (2)

Tira Mutiara

(UIN Syarif Hidayatullah Jakarta, Indonesia) (3)

Muhamad Nadratuzzaman Hosen

(UIN Syarif Hidayatullah Jakarta, Indonesia) (4)

Diah Larasati

(UIN Syarif Hidayatullah Jakarta, Indonesia) (5)

Abdul Wahab

(UIN Syarif Hidayatullah Jakarta, Indonesia)

DOI :

10.30983/es.v7i1.6297

Abstract view : 128 times

PDF view : 10 times

72 - 85
Authors :

(1)

Bambang Iswanto

(Universitas Islam Negeri Sultan Aji Muhammad Idris Samarinda, Indonesia) (2)

Muhammad Riswan

(Universitas Islam Negeri Sultan Aji Muhammad Idris Samarinda, Indonesia) (3)

Ashar Ashar

(Universitas Islam Negeri Sultan Aji Muhammad Idris Samarinda, Indonesia) (4)

Ibadurrahman Ibadurrahman

(Universitas Islam Negeri Sultan Aji Muhammad Idris Samarinda, Indonesia)

DOI :

10.30983/es.v7i1.6241

Abstract view : 24 times

PDF view : 11 times

86 - 99