Islamic Thought Review is an academic peer-reviewed journal published by the Depatment of Islamic Theology and Philosophy, Universitas Islam Negeri Sjech M. Djamil Djambek Bukittinggi, Indonesia.
The journal publishes scholarly articles addressing issues specific to the discipline of Islamic thought and wider issues from an Islamic theological and philosophical perspective. The journal aims to become one of the leading platforms in the world for new findings and discussions of all the aforementioned fields.
Editor welcome scholars, researchers and practitioners around the world to submit scholarly articles to be published through this journal. All articles will be reviewed by experts before accepted for publication. Each author is solely responsible for the content of published articles.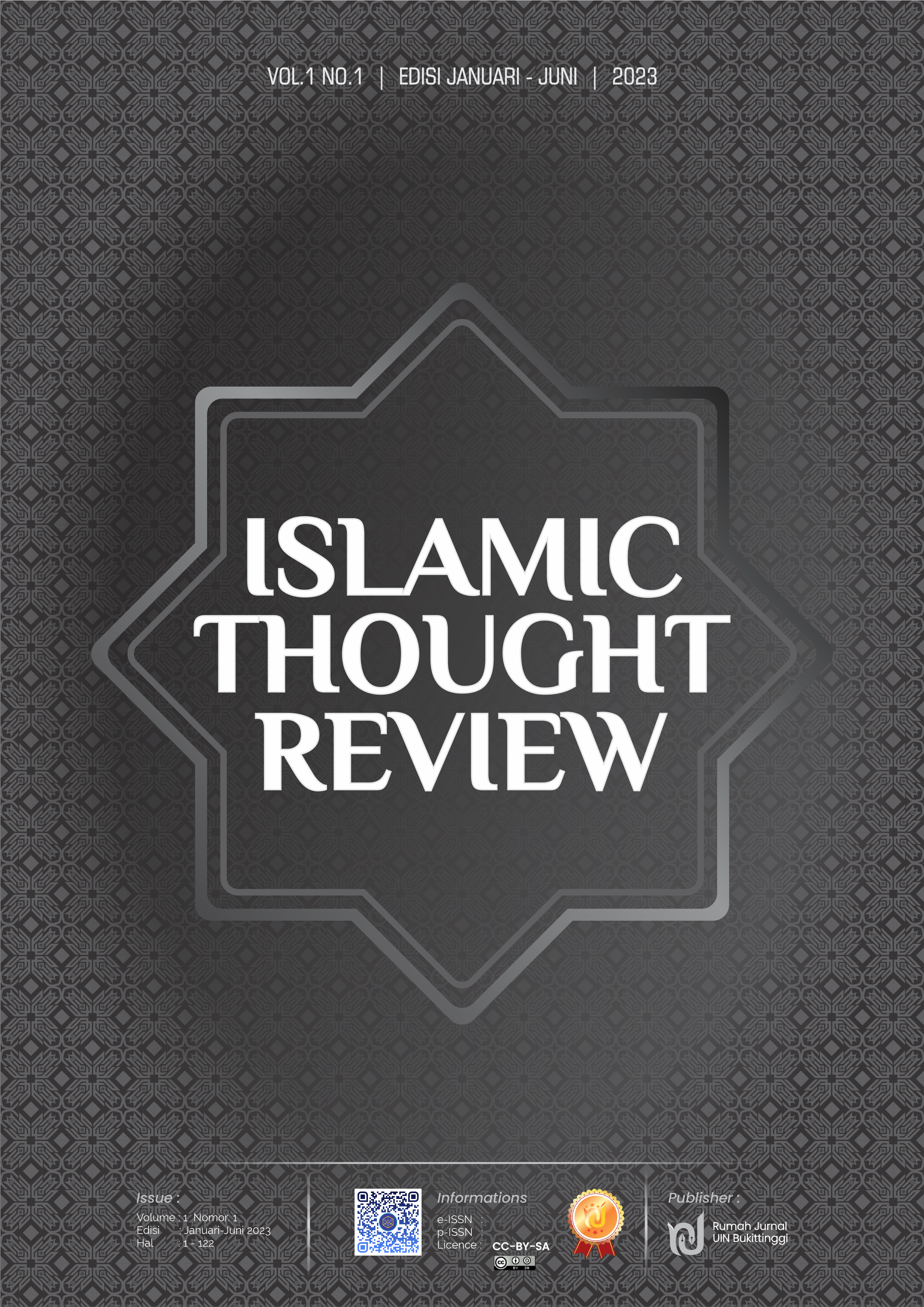 OAI Address

Islamic Thought Review Journal OAI address: 
https://ejournal.uinbukittinggi.ac.id/index.php/ITR/oai
Before submission
,
You have to make sure that your paper is prepared using the
 Islamic Thought Review Paper Template, 
has been carefully proofread and polished and conformed to the author guidelines.
Online Submissions
Registration and login are required to submit items online and to check the status of current submissions.
Announcements
No announcements have been published.
Vol 1, No 1 (2023): June 2023
Table of Contents
Articles
Authors :

(1)

Muhammad Adress Prawira Negara

(Universitas Islam Negeri Syarif Hidayatullah Jakarta, Indonesia) (2)

Neng Hannah

(Universitas Islam Negeri Sunan Gunung Djati Bandung, Indonesia)

DOI :

10.30983/itr.v1i1.6444

Abstract view : 13 times

PDF view : 19 times

1-12
Authors :

(1)

Delavia Andrea Fererli

(Universitas Islam Negeri Imam Bonjol Padang, Indonesia) (2)

Efendi Efendi

(Universitas Islam Negeri Imam Bonjol Padang, Indonesia)

DOI :

10.30983/itr.v1i1.6424

Abstract view : 12 times

PDF view : 179 times

13-21
Authors :

(1)

Rahmah Eka Saputri

(Universitas Islam Negeri Sjech M. Djamil Djambek Bukittinggi, Indonesia)

DOI :

10.30983/itr.v1i1.6491

Abstract view : 22 times

PDF view : 7 times

22-32
Authors :

(1)

Muhammad Rizky Silaban

(Universitas Islam Negeri Sjech M. Djamil Djambek Bukittinggi, Indonesia)

DOI :

10.30983/itr.v1i1.6411

Abstract view : 11 times

PDF view : 5 times

33-42
Authors :

(1)

Muhammad Kevin Saputra

(Universitas Islam Negeri Imam Bonjol Padang, Indonesia) (2)

Zaim Rais

(Universitas Islam Negeri Imam Bonjol Padang, Indonesia) (3)

Elfi Elfi

(Universitas Islam Negeri Imam Bonjol Padang, Indonesia)

DOI :

10.30983/itr.v1i1.6422

Abstract view : 36 times

PDF view : 72 times

43-51
Authors :

(1)

Sri Rahmadani Pasaribu

(Universitas Islam Negeri Sjech M. Djamil Djambek Bukittinggi, Indonesia)

DOI :

10.30983/itr.v1i1.6410

Abstract view : 13 times

PDF view : 11 times

52-62